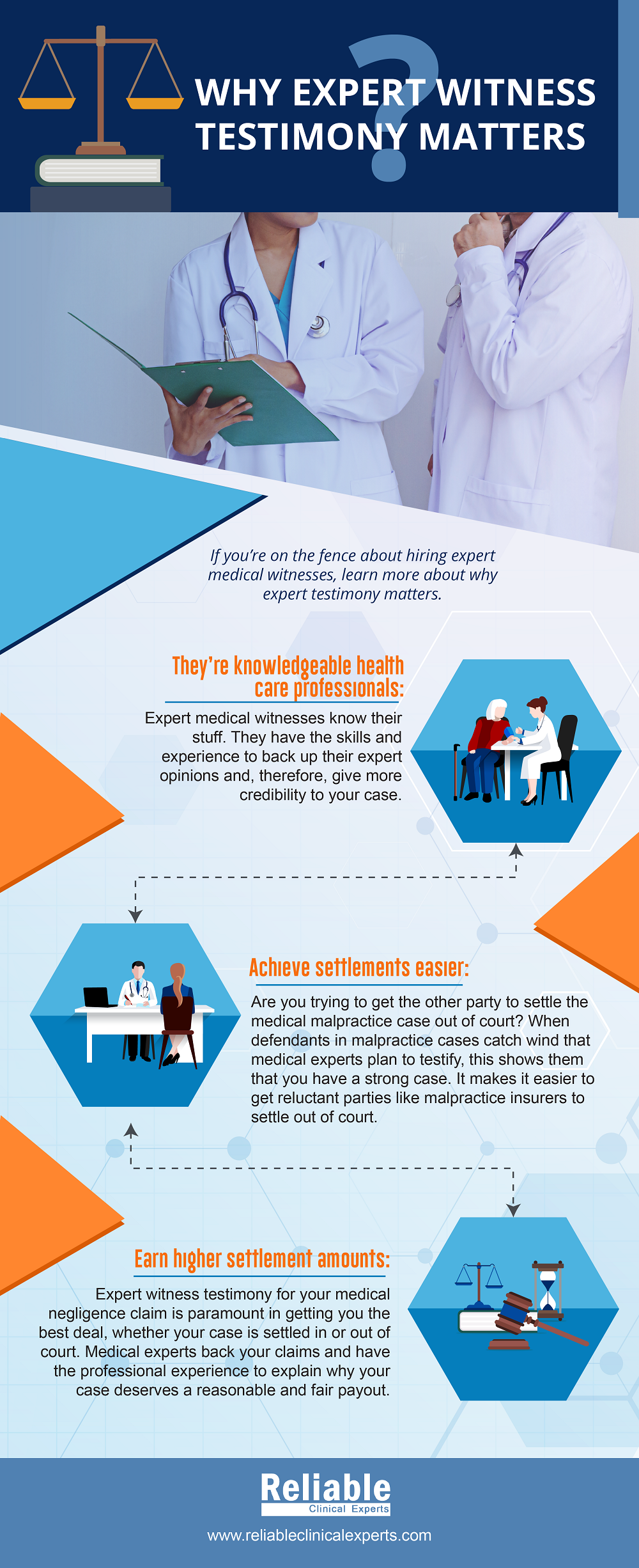 Medical malpractice lawsuits require a team of legal and medical professionals to help their clients achieve a favorable outcome. If you're on the fence about hiring expert medical witnesses, learn more about why expert testimony matters.
1. They're knowledgeable health care professionals: Expert medical witnesses know their stuff. They have the skills and experience to back up their expert opinions and, therefore, give more credibility to your case.
2. Achieve settlements easier: Are you trying to get the other party to settle the medical malpractice case out of court? When defendants in malpractice cases catch wind that medical experts plan to testify, this shows them that you have a strong case. It makes it easier to get reluctant parties like malpractice insurers to settle out of court.
3. Earn higher settlement amounts: Expert witness testimony for your medical negligence claim is paramount in getting you the best deal, whether your case is settled in or out of court. Medical experts back your claims and have the professional experience to explain why your case deserves a reasonable and fair payout.
At Reliable Clinical Experts, we justify your medical negligence claim. Our team pores over the facts of your case and uses their expertise to strengthen your malpractice case. When you choose Reliable Clinical Experts, you're not choosing from one or two experts. We have a variety of medical expert witnesses with varying backgrounds dealing with all kinds of medical issues. Whether you're bringing a malpractice suit against a health care center or an individual health care provider, trust that our experts are exactly who you need on your side for a winning outcome. To learn more about our services and to discuss the merits of your specific legal claim, contact us today at (206) 895-3359.